To Inspire You:
They silenced my screams
but my voice is not confined
the ideas still spread.
~Jeanette Andromeda
Created by You:
Yesterday I was surprised and thrilled to be mentioned on The Top 100 Horror Blogs and Websites as #45! Thank you for making that happen!  You are the reason I create new artwork every week. You are the reason Immortal Alexander writes his stories. You are the reason we create. Thank you for being awesome and for making this possible!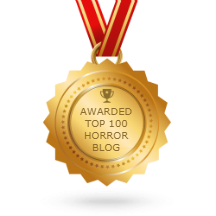 Now, on to the awesome poetry you've made based on last week's piece An Unexpected Friend.
Are you friend or foe?
I wonder as I watch your
Weeping leaves cascade#horrorhaikuesday #haiku pic.twitter.com/7uPOUIw4JF

— power (@epower05) July 11, 2017
She danced beneath the
Taking Tree, unaware of
the reach of its limbs#horrorhaikuesday https://t.co/loCoJw9LEw

— Kelli Perkins (@kellip539) July 11, 2017
Let me teach you, child,
To discard human frailty
And stand for an age. pic.twitter.com/eP09TV80my

— Nano Horror (@tweetsthecreeps) July 11, 2017
I woke to save her,
the giddy umbrella girl
who ignores lightning.#HorrorHaikuesday pic.twitter.com/vCI3pzR2Uw

— Kylie Goetz (xkg) (@eXtremeKylieG) July 11, 2017
together they dance
sun or rain, again, again
different but same#horrorhaikuesday pic.twitter.com/fn9cw4dJDV

— Kylie Goetz (xkg) (@eXtremeKylieG) July 11, 2017
And a little flash back bonus poetry from a new comer to the #horrorhaikuesday game:
Stay away from light
said the shadows of the night
(but they weren't that bright)#inspiration#horrorhaikuesday#awesomepicture#haikupic.twitter.com/hCfNkffXln

— Bunny Burns (@BhhBurns) July 11, 2017
Forest of bad thoughts
Lie caught beneath my bed; but
which of us is scared?#horrorhaikuesday#horror#haiku

— Bunny Burns (@BhhBurns) July 11, 2017
Spindly shadows
grow longer – but I'm stronger
… and I'm hungry, too#inspiration#awesomepicture#horrorhaikuesday#horror#haikupic.twitter.com/oVbHU7Uj97

— Bunny Burns (@BhhBurns) July 11, 2017
Horror Haikuesday?
If you're new here, #HorrorHaikuesday is a game we play on twitter every Tuesday. We all share a little horror themed haiku and use that hashtag to keep the conversation going. If you create a poem based on this week's artwork, use the hash tag and feel free to use the artwork as well. I'll find your tweet and add you to next week's posts.
Happy haunting my friends.
Want to help me keep making artwork?
I have a store with prints and coffee holding contraptions. Because caffeine deserves to look as good as it tastes. Society6.com/horrormade.